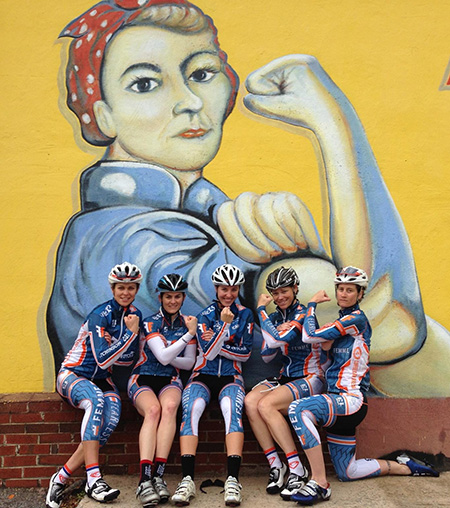 Fearless Femme returns to the United States race scene with a team poised to uphold the success and spirit of their inaugural 2013 season, where the squad achieved over 45 podium spots and 16 victories. Fearless Femme maintains a solid but limited roster, with 4 returning racers and the addition of Tina Pic (6-Time United States Criterium National Champion). The National Criterium Calender, select USA Crits, and Parx Casino Philadelphia races will be the target events on the 2014 schedule.
The Mission
In 2013, Fearless Femme catapulted from the start with a victory, paving the way for tremendous and successive podium results, and concluding with a victory by Kimberley Wells at Elk Grove, against world class competition. Unity was the ethos of the team and produced unprecedented results where wins were shared and each member of Fearless Femme either won a race(s) or achieved podium spots. Fearless Femme earned fans, respect, and created a contagious new sense of fun, that seemed defunct from the current competitive scene. The battle cry was always to have fun, race safe, and create a strong and positive voice on behalf of women's cycling and their sponsors.
With a successful rookie season, Fearless Femme maintains their mission of partnering experienced racers with small business sponsors, to create active marketing visibility that spotlights women's cycling and encourage the growth of female participation in cycling and financial sponsorship of the sport.
Furthermore, Fearless Femme will operate as a branch of Pure Energy Velo LLC, a Non-Profit entity chartered to advocate the benefits of healthy living through cycling and promotion of youth cycling in the local communities.
About the Team
Fearless Femme returns with Theresa Cliff-Ryan as the team captain after a season where she sprinted towards 7 victories and 20 overall podium appearances, including 3rd at the 2013 Criterium Nationals in High Point, NC. Kelly Fisher-Goodwin maintains her role as critical lead-out and story teller, after a season where she soloed to victory at the Wilmington Grand Prix and Prairie States. Erin Silliman joins the core team after a breakthrough season and earning her crown achievement with a 2nd place at Tybee Island-Speed Week. Colleen Hayduk also joins the team after playing an incredible support role in 2013 and being the first team member to deliver a victory for Fearless Femme. But perhaps the biggest news is the addition of Tina Pic! Arguably one of the most decorated women in professional cycling history as a 6-time US Criterium National Champion (2002-2005, 2007, 2009) and 4-time NRC points champion (2000, 2004-2006), and a bevy of other significant race wins, Tina Pic brings her race experience and amazing energy to the Fearless Femme. Beloved, Kimberley Wells moved onto race in Europe and left a significant vacancy that was characterized not only by speed and experience, but also a fun-loving spirit. "Tina Pic was an obvious choice to fill Kimberley's vacancy because she knows how to race, knows what it takes to win, knows how to encourage others to win, fits into our fun team chemistry, and she is fearless!" – Arounkone Sananikone, Team Owner/Mechanic. Gary Ryan resumes his leadership role as Director Sportif after engineering a remarkable season of victories and podiums. When asked how he was able to develop the winning plan, despite an abbreviated team, sparse budget, and limited resources, Gary Ryan responded with "It's the girls!
They love each other and they will do anything for each other. They follow through and they make me look good!"
About the Sponsors
Fearless Femme is proud to renew sponsorships with several tremendous small companies, who support the growth and advocacy of women's competitive cycling. The new sponsors include TayganPoint Consulting Group, a company who has health and fitness as a core value and a business focus aimed at improving efficiency, execution, communication, and project management of their clients, who range from pharmaceutical to finance. TayganPoint is located in Lambertville, NJ and majority owned by Joy Taylor, herself a recreational cyclist. Tattle Tea brand loose leaf teas come on board as a sponsor and shares an abundance of support and enthusiasm to the Fearless Femme. Tattle Tea's goal is to demystify teas, making gourmet blends that are accessible and easy to steep. Tattle Tea is owned by Andrew Esserman, who also enjoys cycling with his friends and family. Vie13 Kustom Apparel continues to provide the innovative cycling kits for the team. With attention to the finest details and state of the art cycling fabrics, Vie13's advantage is due in part to Theresa Cliff-Ryan, team captain and majority owner. "It just makes perfect sense to partner with sponsors who share an attitude of success, winning results, and healthy living through cycling." – Arounkone Sananikone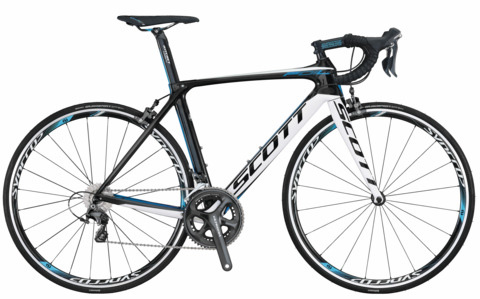 Fearless Femme is also proud to be riding Scott Foil bicycles in 2014! The team believes this is the perfect criterium bicycle. Combining lightweight, aerodynamics and stiffness this is a bike that truly offers the best all round performance for a race bike in any situation, and the wins at Australian nationals and the Tour Down Under prove it.
Nics Sims, head of Cycling Marketing at Scott Sports quoted: "We at SCOTT are proud to support cycling from our involvement with kids at the high school level, to the opportunity to work with this great program. We really appreciate the chance to help grow the involvement in women's cycling, Arounkone and the Fearless Femme team have done an amazing job in a short period of time and their eagerness and passion for the sport mirrors ours at SCOTT, so this partnership was an easy decision."
Other distinguished sponsors include:
Kit Order Hutchinson Tires
Riverhorse Brewery Rocket 7 Shoes
CMJ Medical Coffee Bean Direct
Echelon Asset Management ROL Wheels
 Defeet Socks Custom Velo
Pure Energy Cycling
Enjoy the ride with us: